Cover Your Rear. Get The Gear.®

All CAT Scale Merchandise orders are processed through IOWA80.com in Walcott, Iowa.

New CAT Scale Racing T-Shirt
CAT Scale racing tee features a large back graphic of the official CAT Scale race car. The CAT Scale car is in the Pro All-Star Series (PASS). On Saturday, September 22, 2012, the CAT Scale Race Team had Richie Dearborn return to PASS action driving behind the wheel of the #80 car. He raced to the lead early in the PASS North 150 in White Mountain Motorsports Park, North Woodstock, New Hampshire. After starting 3rd in the field; Richie raced to the front, only to have a broken transmission and sidelined the car for the night. The CAT Scale Race Team was credited with a 16th place finish.  Buy Now.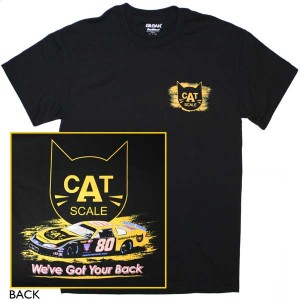 1938 Kenworth T-Shirt

Front graphic reads "1977 CAT Scale". Large back graphic shows the '38 Kenworth on a CAT Scale with "We've Got Your Back" in yellow retro-style script. Buy Now.
Download The CAT Scale Ringtone

Click Here To Download The MP3 Ringtone