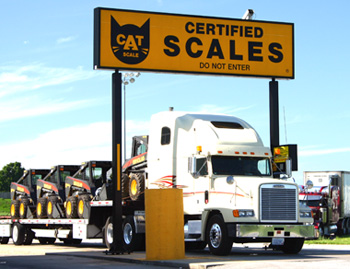 For the first time, drivers had access to scales that could weigh their entire truck and trailer unit all at once. Drivers could get a weight on their vehicle that was guaranteed accurate with CAT Scale's unconditional guarantee. Plus, CAT Scale was there to stand behind them if there were any problems.
Since then, CAT Scale has grown to the largest truck scale network in the world, with over 1,500 locations throughout the U.S. and Canada. Now CAT Scale is the one place drivers can trust to COVER THEIR REAR with a no excuse guarantee.
Mr. Moon installed the first CAT Scale in 1977 in South Holland, Illinois. In 1988, there were 28 CAT Scales in existence. At that time the company began to rapidly expand. Now there are over 1,500 CAT brand scales across the United States and Canada with more opening all the time.
With the stringent weight regulations and potential fines associated with violating such regulations, CAT Scale Company provides a much needed service to the trucking public. CAT brand scales are covered by an unconditional guarantee. If a driver receives an overweight fine after weighing legal on a CAT brand scale, CAT Scale Company will either pay the fine or appear in court with the driver as an expert witness in order to get the fine dismissed. In either scenario, the driver is covered by the guarantee and does not have to pay the fine, as long as they weighed on a CAT brand scale prior to receiving the citation.
With over 1,500 locations across the U.S. and in Canada, there is always a CAT Scale where you need one. CAT Scale location directories can be obtained by calling toll free 1-877-CAT-SCALE. You can also order directories online.